When:
February 13, 2018 @ 7:00 pm – 9:00 pm
2018-02-13T19:00:00-08:00
2018-02-13T21:00:00-08:00
Where:
Olympia Yacht Club
201 Simmons St NW
Olympia, WA 98501
USA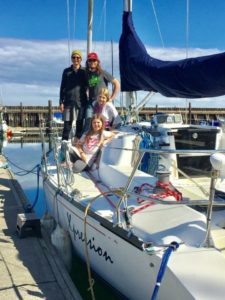 Years of cruising with the love of your life in the glorious waters of Mexico. Sounds like a wonderful dream, right? Something most of us could only imagine in the B.C. years (before children), or after retirement.
Max (then age 24) and Stephanie Hegewald (age 19) cruised aboard their 1962 Herreshoff H-28 , S/V Chinook, for 3.5 years, before returning to rural Thurston County with a 10 year plan to sail off again with young children.
The Hegewalds are now planning to cast off the dock lines again and take the Big Left out of the Strait of Juan de Fuca with their two daughters, Michelle (age 10) and Autumn (age 8) Aboard S/V Xpression.
Join us at the SSSS meeting on February 13, to hear more from this lively sailing family.
Doors open at 6:30pm.
Meeting begins at 7:00pm.