This special event, which coincides with Presidents' Day weekend in February, is part of the Southern Sound Series. It is co-hosted by SSSS and the Olympia Yacht Club.
Toliva Shoal is a full weekend of events, including the race itself. It is our best-attended race and the only one that attracts boats from throughout Puget Sound, commonly drawing 80-100 boats. Many locals who only do one race a year do this one. There is a party the night before that has a reputation in the Puget Sound sailing community as an event all by itself. This is your chance to sample "down Sound" racing without leaving Olympia.
Course:
start and finish between Olympia Shoal and the RC boat, rounding Anderson Island, the Toliva Shoal Buoy, and the buoy in Balch Pass to port. 36.8 nm
This race is not part of our regular SSSS race program. It is run by the Toliva Shoal Race Committee, which represents both SSSS and OYC. You must register in advance and pay an entry fee. It has its own Sailing Instructions, which are different then the instructions in this book.
This is the third race in the four-race Southern Sound Series. The Southern Sound Series Council organizes the series and represents Tacoma Yacht Club, Gig Harbor Yacht Club, Three Tree Point Yacht Club, and of course SSSS and the Olympia Yacht Club.
You are welcome to sail the entire series. Many SSSS boats do. More boats, and tighter classes make great winter racing. It is a good introduction to racing beyond Olympia.
The Complete Southern Sound Series Races are:
December   Vashon Island Race   TYC	Tacoma
January    Duwamish Head Race   TTPYC	Des Moines
February   Toliva Shoal Race    SSSS	Olympia
March      Islands Race	        GHYC 	Gig Harbor

For more information on Series Races, including specific dates for the races, Sailing Instructions, entry form, or results, see the Southern Sound Series Office.
If you still have questions about these races, contact the Toliva Shoal Race Chair, the SSSS Representative to the Southern Sound Series Council, or the SSSS Race Chair.
---
Toliva Shoal Race 2017:
Results : Redline was First OA PHRF, T Bird 1030 was First to Finish
Photos by: Bob Butts, Glen Hunter, Peggy O'Brien
---
Toliva Shoal Race 2018:
Welcome to Toliva 2018 (PDF)
Welcome to the Toliva Shoal Race
February 17, 2018
hosted by the South Sound Sailing Society and the Olympia YC
The third race of the Southern Sound Series.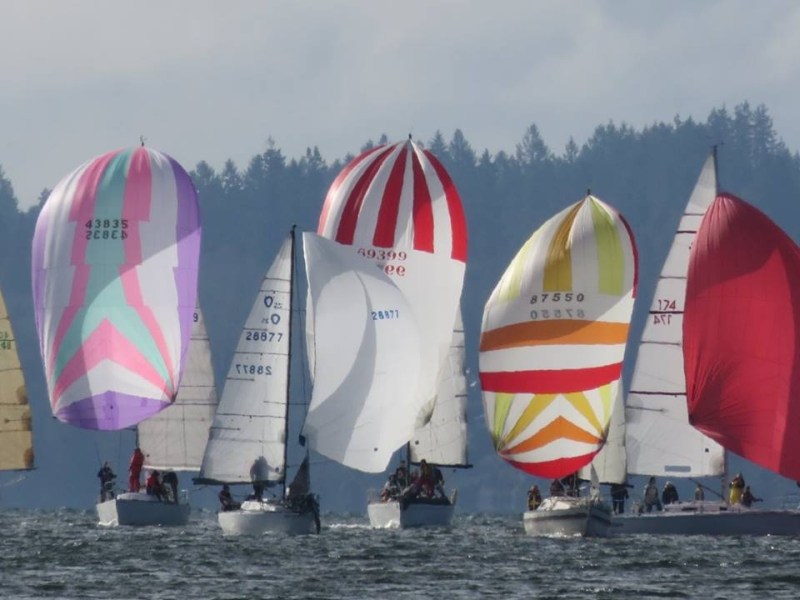 photo by Glen Hunter
Next up is the GHYC Islands Race March 17, 2018.
The Toliva Shoal Trophy Case
PHRF Perpetual Trophy : First Over All Corrected PHRF
Governor's Perpetual Trophy : First to Finish
Southern Sound Series Trophy Case
Toliva Shoal RC, PO Box 1102, Olympia 98507
Terry Andersen, (360) 459-2650 tolivarc@ssssclub.com